Upload your circular vector, create a custom backbone and order fragments for cloning in under four minutes. Here we show you how.
Step 1: Onboard a Circular Vector
The first step is to create the digital version of your circular vector. From this, you can extract a backbone for your insert.
From the home screen, select Toolbox in the left panel.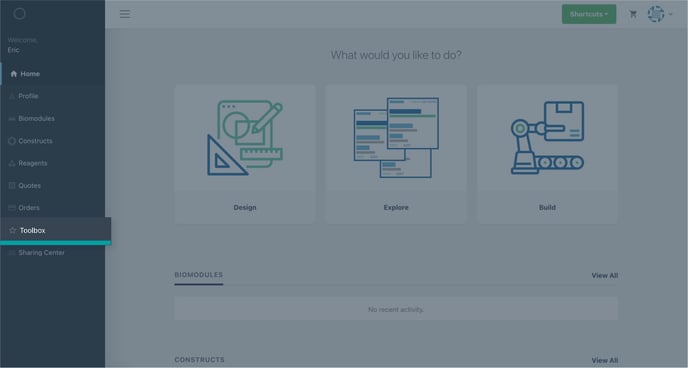 Search the toolbox for "onboarding".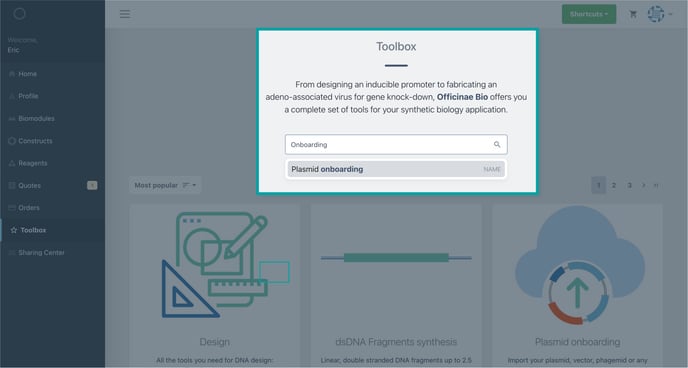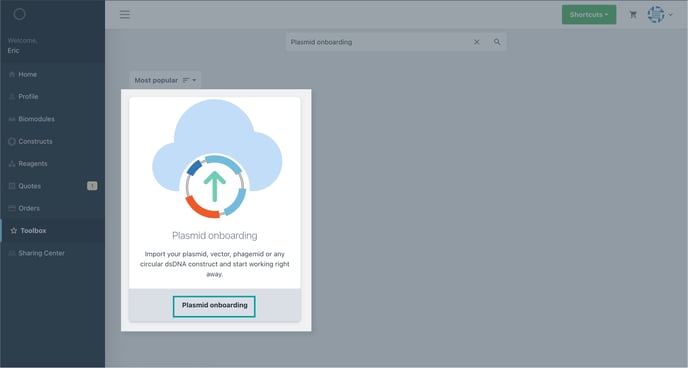 Import the GB or FASTA file of your circular vector.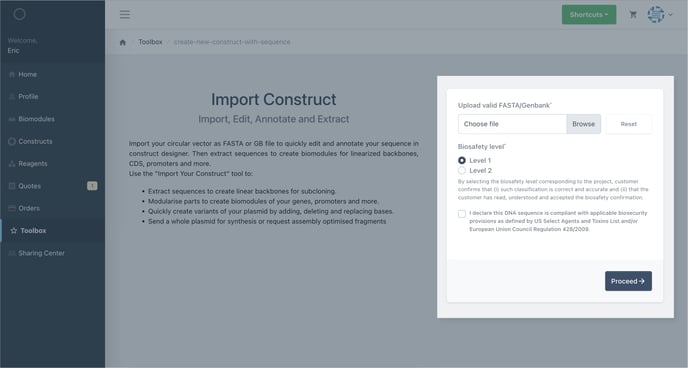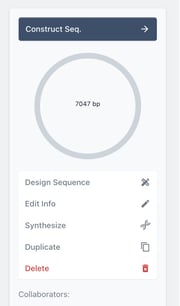 Done. You have now created a Simple Construct which contains the sequence of your circular vector
Step 2: Extract Your Backbone as a Biomodule
Next let's extract the portion of the sequence to use as a biomodule for our linear backbone.
Use the Select tool to choose the region of your circular vector that is replaced by your Gene of Interest (GoI). This region is usually the multiple cloning site (MCS). Insert the Start and Stop and click enter. The corresponding region is highlighted in the map.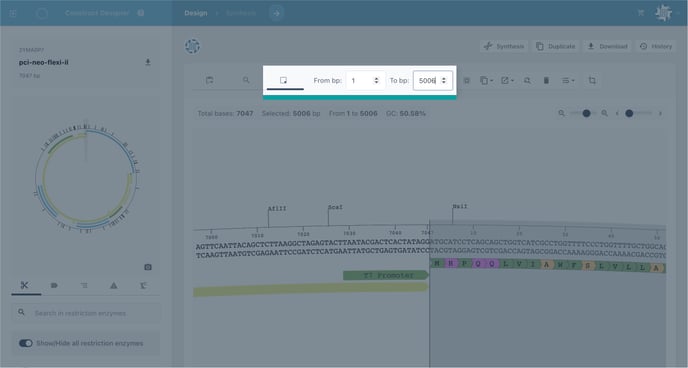 Right click on the highlighted sequence and chose Reverse Selection from the menu

Breeze automatically highlights the corresponding reverse selection, this is your linear vector backbone

Right click on the highlighted sequence and click Extract Sequence.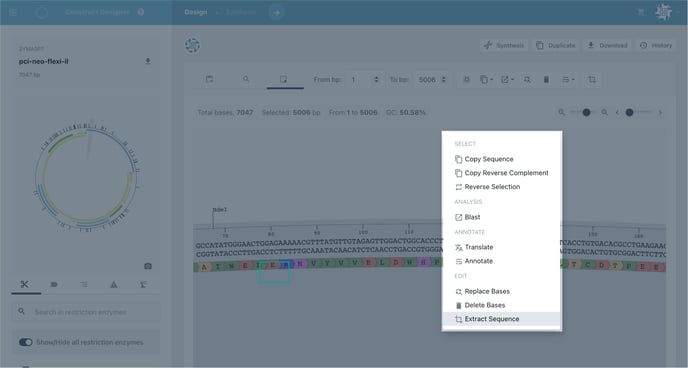 Alternatively select extract sequence from the toolbar.

You have now created a biomodule for your linear backbone.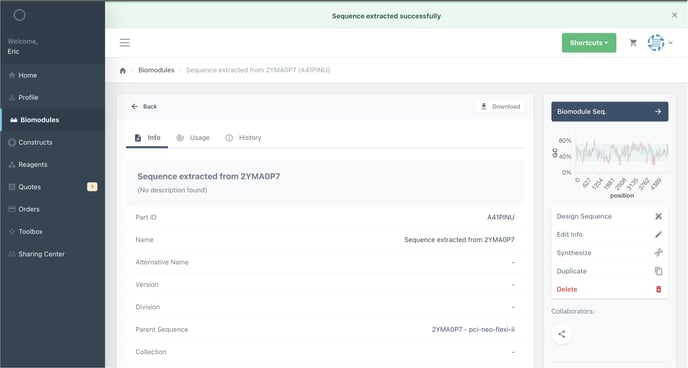 The next step is to associate a function through annotations - in this case "linear backbone" - to the biomodule.
Step 3: Annotate your Linear Backbone
Annotations can be used to assign functions to biomodules. These functions allow for the modular design and easy ordering our platform works on. In this case, annotating our new biomodule as a linear backbone means we can quickly order it with our insert at checkout.
In the biomodule information window choose Biomodule Seq. Alternatively, choose Sequence on the biomodule item card.
Use the Select All tool to select the entire sequence.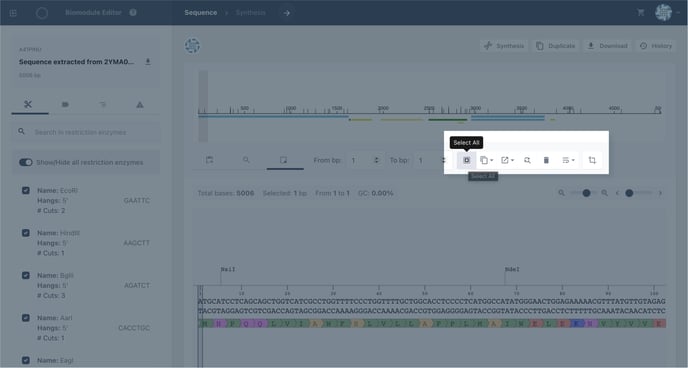 Choose Annotate from the toolbar.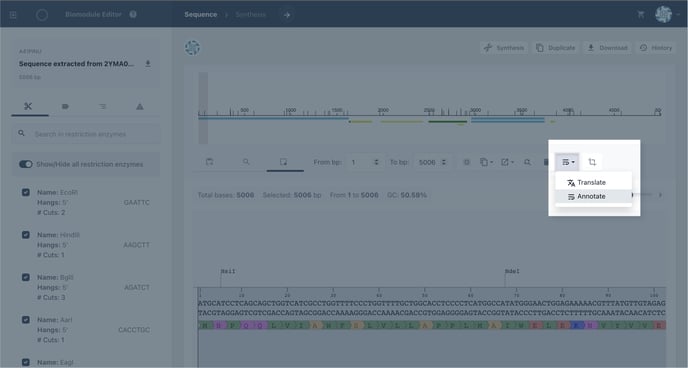 Search for "backbone" in the annotation window.

Choose Vector backbone/plasmid.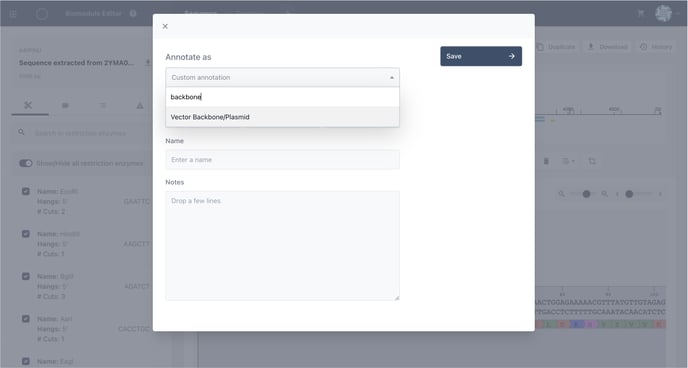 Give your linear backbone a name then click save. Ok, now we are ready to order our cloned fragments.
Step 4: Order your fragments and cloning service
The fastest way to order your Cloned Fragments do this is via the "build" tool.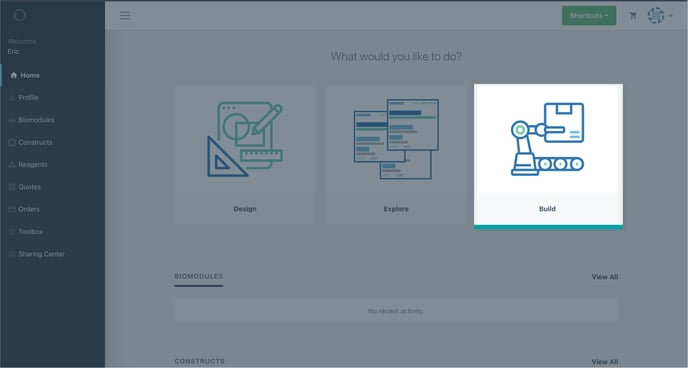 Choose "cloned fragment synthesis" from the build options.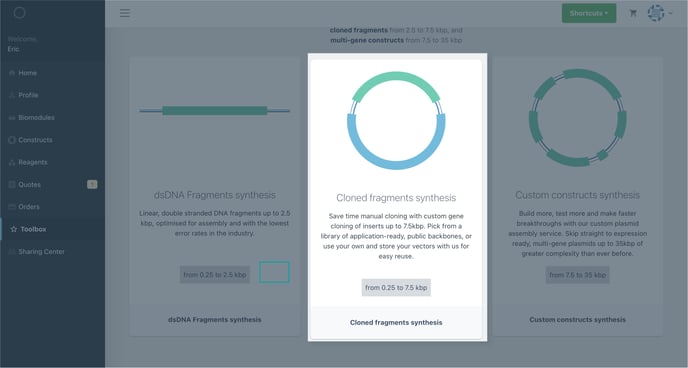 Next upload the sequence of the insert you would like to clone as GB of FASTA.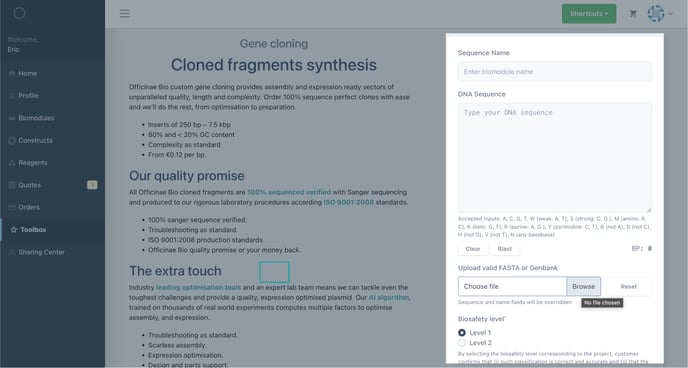 You will arrive at the order review page. In the section titled Destination Vector you will see a list of public backbones and any linear backbones you have created. Choose the correct Linear Backbone.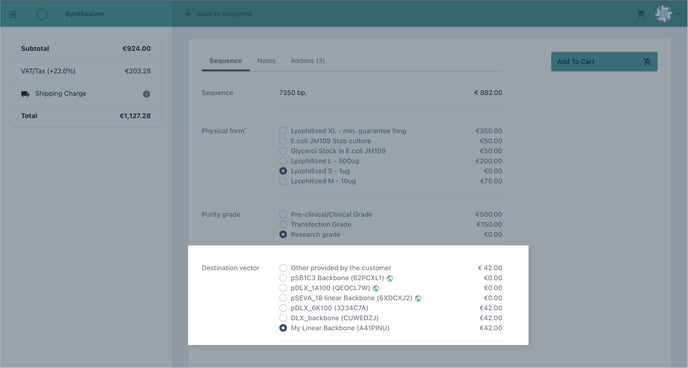 Add to cart.

And proceed to order or continue shopping.
Use the additional information section to share important information about your plasmid. i.e. special strain requirements for your host organism.
Prepare your sample for shipping
The next step is to prepare your sample for shipping. See this quick guide on what you need to do.