Keep your biomodule information up to date to help organise and characterise your collection
View Biomodule information
---
From within your biomodule collection click info on the item card.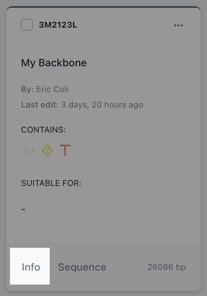 From the information page of your biomodule, look for the edit info button on the right hand side of the screen. Click it.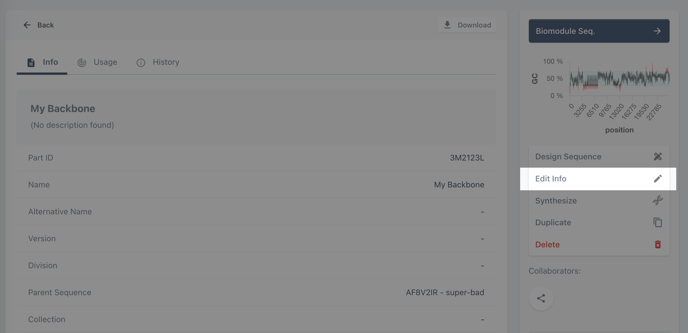 You can now update the biomodule information. When you've finished, click update.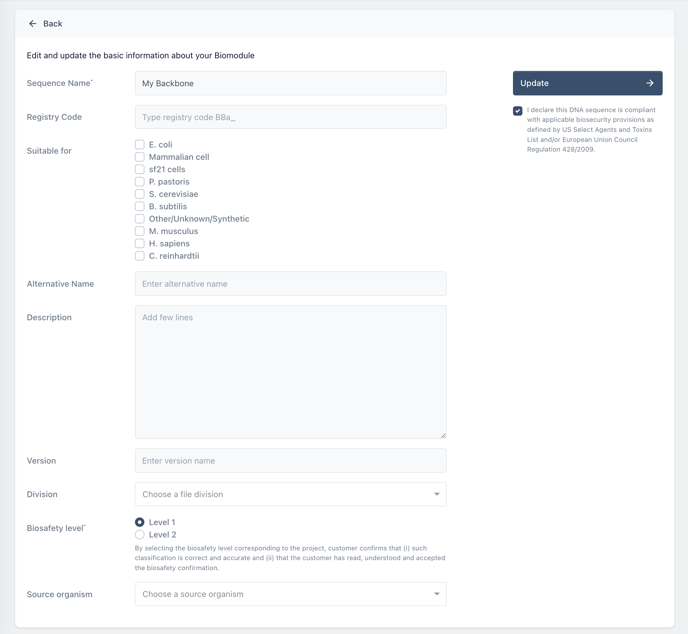 Key to Information Fields
---
| | |
| --- | --- |
| Sequence Name | Give your biomodule a name |
| Registry Code | A field to insert the BioBrick registry code of the biomodule. |
| Suitable for | Checkbox fields to specify the host compatibility. |
| Alternative Name | Field for alternative naming of your biomodule. |
| Description | Add a description for you and your teammates to understand the biomodule. |
| Version | A field for tracking the version of a biomodule variant. |
| Division | A dropdown field for characterising the file type i.e. primate sequence, high-throughput genomic sequence. |
| Biosafety level | Indicate the biosafety level for the sequence. |
| Source Organism | Drop down field for information regarding the source strain or organism |
Annotating your biomodules
---
Another important element to characterising your biomodules is creating annotations. To learn how to do so, see this article on how to annotate your biomodule.